News
BPS Students Received Medals during Band Solo and Ensemble
Saturday, February 10th, Bangor High School students attended the Solo and Ensemble event. Congratulations to all of our students who performed. Every student got a medal, meaning a Division 1 or 2 rating. All students who earned a 1 have now qualified for state! Great job to these students and their accompanist! Go VIKINGS!
Lucas Artis - 1
Dirk Brunt - 1
Bethany Oliver - 2
Walter Oliver - 2
Amara Littlefield - 1
Emily Roe - 1
Epiphany Parker - 2
Anise Montoya - 1
Summer Torres - 1
Jasmin Gomez - 1

Jackie Perry - 1

Connor Hoots - 1
Emily Jones - 1
Connor and Emily duet - 2
Michael Hardester - 2
Sammy Glidden-Fry - 2
Hannah Householder - 2
Audrey Hay - 1
Olivia Kuiper -1
Brett Robertson -1

VBTC Students Qualify for the BPA Leadership Conference
On Tuesday, January 9, thirty-three students from the Van Buren Technology Center attended the Business Professionals of America Leadership Conference at Lake Michigan College in Benton Harbor, Michigan.
R/Vets Program

R/Vets is a group whose main objective is to support our Veterans at the Battle Creek VA Medical Center.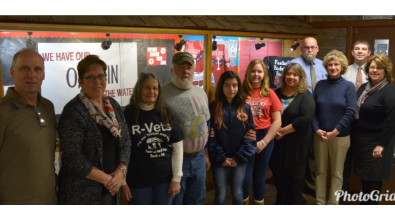 Jacob Brink, a student at Bangor High School and Van Buren Technology Center, uses Networking Academy classes to help him prepare for college.
Jacob Brink loves technology. The 17-year-old high school senior takes as many tech classes as he can at Van Buren Technology Center, located in Lawrence Michigan, including several Cisco Networking Academy classes. "I love to tear things apart and put them back together," Jacob says.
Boundary Waters
The Boundary Waters Canoe Area is located in Northern Minnesota, it's about 3 hours north of Duluth, Minnesota.
Click here to see the Boundary Waters slideshow!
New High School Class - Gone Boarding!
Teacher Mark Meyers says that the students are enjoying the new Gone Boarding class. The students are engaged and having fun designing and creating their boards!
Click
here
to see the Gone Boarding class in action!