News


R/Vets Program
R/Vets is a group whose main objective is to support our Veterans at the Battle Creek VA Medical Center.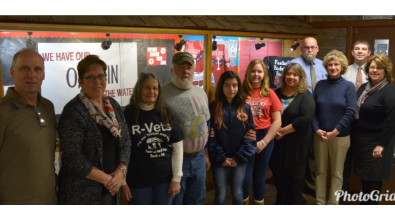 Jacob Brink, a student at Bangor High School and Van Buren Technology Center, uses Networking Academy classes to help him prepare for college.
Jacob Brink loves technology. The 17-year-old high school senior takes as many tech classes as he can at Van Buren Technology Center, located in Lawrence Michigan, including several Cisco Networking Academy classes. "I love to tear things apart and put them back together," Jacob says.
Boundary Waters
The Boundary Waters Canoe Area is located in Northern Minnesota, it's about 3 hours north of Duluth, Minnesota.
Click here to see the Boundary Waters slideshow!
New High School Class - Gone Boarding!
Teacher Mark Meyers says that the students are enjoying the new Gone Boarding class. The students are engaged and having fun designing and creating their boards!
Click
here
to see the Gone Boarding class in action!
Bangor Public Schools Awarded "Technology Mobile Empowerment Award"
T-Mobile has awarded Bangor Public Schools a $124,000 grant to provide Internet access and technology to students who do not have access to either. This grant will allow the district to expand technology offerings for our students. T-Mobile has been fabulous to work with. They are very accommodating and are working with us to provide the greatest amount of internet and device access for our students.
Herald Palladium Article: http://www.heraldpalladium.com/news/local/a-bridge-over-the-digital-divide/article_9e927c2e-5ff4-51c4-9a57-929b74b501bb.html
BPS Budget Deficit Fund Balance Eliminated
Bangor Public Schools Recipient of 2017 Grant!
Bangor Schools is the recipient of a 2017 grant for $1500 in school art supplies/equipment from the Michigan Youth Arts Council. This state funded grant opportunity was provided under the Michigan Council for Arts and Cultural Affairs.
We are grateful for the much needed support that the Michigan Council for Arts & Cultural Affairs program has provided for our visual arts program in the 2016-2017 school year. The funds from the Arts Equipment & Supplies Grant went toward paints, brushes, paper supplies, and other consumables for the high school and middle school art classrooms. (Charles Umbanhowar)​
MS and HS Jazz Bands had a great day!
Great job to both the HS and MS jazz band at Jazz Festival today. What a great time where we just had fun and played! Thanks to all who were there to see us perform.

This was a non rating festival with a clinic after the performance so how'd we do... AWESOME!
Olivia Moore Signs with KVCC
Olivia Moore signs with KVCC to play volleyball! Good luck Olivia! Go Cougars!

Bangor High School Student Takes 5th Place at BPA Competition
Van Buren Technology Center Business Professionals of America Student Organization (Press Release)
March 20th, 2017, Denis Huffman,
VBTC Instructor and BPA Adviser
On March 16th through the 19th, 35 students from the Commercial Art, Cyber Security & Computer Network Technology and Software Engineering programs at the Van Buren Technology Center participated in the Business Professionals of America State Leadership Conference at the Amway Grand Plaza Hotel in Grand Rapids, Michigan.

BPA is a student organization with over 43,000 students in 23 states. This three day event included 65 competitive events, 12 professional development sessions, a full assembly general sessions, election of state officers, college fair, a formal dinner and dance, and various other activities. On Sunday morning at the awards ceremony at Devos Place, the following VBTC students were recognized for their accomplishments:
Jacob Brink, Bangor High School, VBTC Cyber Security & Computer Network Technology
5th Place, Computer Network Technology

Callum Hume, Mattawan High School, VBTC Software Engineering
Bronze - Administrative Support Concepts
Bronze - Computer Programming Concepts

Joel Vernon, Dowagiac High School, Cyber Security & Computer Network Technology
Bronze - Financial Math & Analysis
Bronze - Information Technology Concepts
4th Place - Systems Administration Using Cisco
4th Place - Computer Security

Aaron Nancy, Watervliet High School, VBTC Cyber Security & Computer Network Technology
2nd Place - Network Administration Using Microsoft

These students qualified for the BPA National Leadership Conference in Orlando Florida May 10th through the 14th, 2017. In addition all students earned a $3,000.00 per year scholarship to Davenport University, renewable four years with an overall value of $12,000.00.

VBTC Instructors and BPA Advisors are Steve Ambs, Carlos Esquivel, Denis Huffman, and Kimberly Wood.
Pictured from left to right are: Jacob Brink/Bangor High School, Callum Hume/Mattawan High School, Joel Vernon/Dowagiac High School, and Aaron Nancy, Watervliet High School.
High School Concert Band Earns Division I Rating!

Congratulations to the High School Concert Band for earning a Division 1 rating at MSBOA District 6 Band Festival at Lake Michigan College Mendel Center!
The judges were so impressed by how well our students represented themselves on stage and responded to directions verbally and non-verbally. Our students were given many compliments on how they represented Bangor Public Schools! Go Vikings!

7th & 8th Grade Band Earns Division II Rating


Congratulations to the 7th & 8th grade band. They performed at the MSBOA District Band Festival at Lake Michigan College Mendel Center.

The students played very well and earned a Division 2 rating! All of their grades were A's and B's with great comments and suggestions for improvements. The students represented Bangor very well with their good behavior. Go Vikings!