News
8 days ago
BPS Students Received Medals during Band Solo and Ensemble
Saturday, February 10th, Bangor High School students attended the Solo and Ensemble event. Congratulations to all of our students who performed. Every student got a medal, meaning a Division 1 or 2 rating. All students who earned a 1 have now qualified for state! Great job to these students and their accompanist! Go VIKINGS!
Lucas Artis - 1
Dirk Brunt - 1
Bethany Oliver - 2
Walter Oliver - 2
Amara Littlefield - 1
Emily Roe - 1
Epiphany Parker - 2
Anise Montoya - 1
Summer Torres - 1
Jasmin Gomez - 1

Jackie Perry - 1

Connor Hoots - 1
Emily Jones - 1
Connor and Emily duet - 2
Michael Hardester - 2
Sammy Glidden-Fry - 2
Hannah Householder - 2
Audrey Hay - 1
Olivia Kuiper -1
Brett Robertson -1

VBTC Students Qualify for the BPA Leadership Conference
On Tuesday, January 9, thirty-three students from the Van Buren Technology Center attended the Business Professionals of America Leadership Conference at Lake Michigan College in Benton Harbor, Michigan.
R/Vets Program

R/Vets is a group whose main objective is to support our Veterans at the Battle Creek VA Medical Center.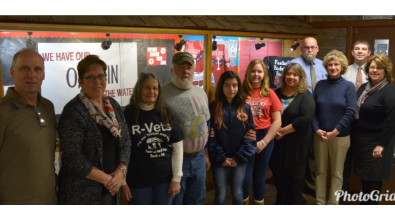 Jacob Brink, a student at Bangor High School and Van Buren Technology Center, uses Networking Academy classes to help him prepare for college.
Jacob Brink loves technology. The 17-year-old high school senior takes as many tech classes as he can at Van Buren Technology Center, located in Lawrence Michigan, including several Cisco Networking Academy classes. "I love to tear things apart and put them back together," Jacob says.
Boundary Waters
The Boundary Waters Canoe Area is located in Northern Minnesota, it's about 3 hours north of Duluth, Minnesota.
Click here to see the Boundary Waters slideshow!
New High School Class - Gone Boarding!
Teacher Mark Meyers says that the students are enjoying the new Gone Boarding class. The students are engaged and having fun designing and creating their boards!
Click
here
to see the Gone Boarding class in action!
School Transparency Dashboard Survey
about 1 month ago
Survey for Parents, Grandparents, and Caregivers
Parents and other caregivers of children from preschool through grade 12 are invited to provide feedback on Michigan's new, online "transparency dashboard" designed to show the performance of every public school in Michigan, including public school academies. The dashboard is currently under development by the Michigan Department of Education (MDE). It is expected to be made available to the public by early 2018.
The new dashboard will report on more than 20 different factors—or measures—that parents and other stakeholders have said are important to them when evaluating the quality of a school. The survey allows participants to view components of the new dashboard, then answer questions about the way information is presented, the usefulness of certain features, and viewers' unique interests. The Michigan Department of Education will use survey feedback to help shape the current and future versions of the dashboard so that it is helpful to parents in every community.
Click the link below (or type the survey URL into your web browser) to access the online survey: surveymonkey.com/r/MDEESSA_Dashboard2017
Survey details:
The survey can be completed on any computer, tablet, or mobile device.
The survey should take no more than 15 minutes to complete.
All answers will be confidential.
Survey must be completed by November 15, 2017.
Vikings Points of Pride
7 months ago
The Bangor Public Schools offer a high quality education in grades Kindergarten through Twelve, specializing in programs for our students varying abilities and interests.

We are very proud of the additions, upgrades and improvements to our K-12 facilities. This school year our students will see a new track, team rooms, concessions and bathrooms at Viking Stadium; upgrades to our locker rooms, new doors and windows at the middle and high buildings and expanded classroom technology.
The Bangor Public Schools are excited about our many student offerings that include:
An Award-Winning Music Program
A K-12 Art Program
A Broadcast News Program
An Award-Winning Quiz Bowl Team
A K-12 Migrant/Bilingual Program
Summer School Offerings
On-Line Educational Opportunities
A high-quality 7-12 Athletic Department that boasts:

Championship Wrestling
Volleyball-Cross Country
Track Teams
Boys & Girls Soccer
Boys and Girls Basketball
14 Varsity Athletic Teams
10 All-State Athletes in the 2012-2013 School Year